I love
Etsy
.
I look to Etsy anytime I need something.
Gifts.
Clothes.
Jewelry.
Candles.
Soap.
Hats.
Stickers.
Business cards.
Now that I've started my photography business, I am happy to report that I am still going to Etsy for my business needs!
First, I needed a watermark / logo for my photos I post online.
I posted an alchemy request and found my girl within a few hours.
YourFriendAmy
sent a proof after reading my request. It was obvious she put time and true effort into the proof. It was exactly what I wanted - and she even used my blog colors. I saw it and instantly loved it. No revisions needed. Talk about an artist with the ability to read minds!
YourFriendAmy
offers Etsy shop sets, banners, collage sheets, invitations & announcements. If you are looking for a way to spruce up your shop, I highly recommend visiting her shop! Thanks Amy!!!
Next up....Jackie with
TotzHatz
.
I have featured her time and again because I love her work!
She creates ADORABLE hats for babies and children, as well as funky little flower clips.
My current favorite photo of my daughter is the one above.
She is sporting a TotzHatz visor hat AND a flower clip.
I purchased those items separately but at the last minute, clipped the flower on the hat.
I loved the look.
Jackie offers hats with flowers, hats with detachable flower clips, and the clips alone which work great in hair or on hats!
Here are a few of my current favorite items from her shop!

Last, but certainly not least, is
SimplyBasicDesigns
.
I found this awesome cradled egg prop and had to grab it.
I received it 2 days after I paid! Talk about speedy delivery.
The shop owner also gave me all kinds of advice and tips for props to use with newborns.
So sweet.
She has so many cute items in her shop! Egg props, cocoons, wraps, and more.
The babies I've photographed were too big for the egg ... but I was still able to incorporate it into one photo and love LOVE love the texture it added to the picture. You can see it lining the bowl under Baby Sawyer's head.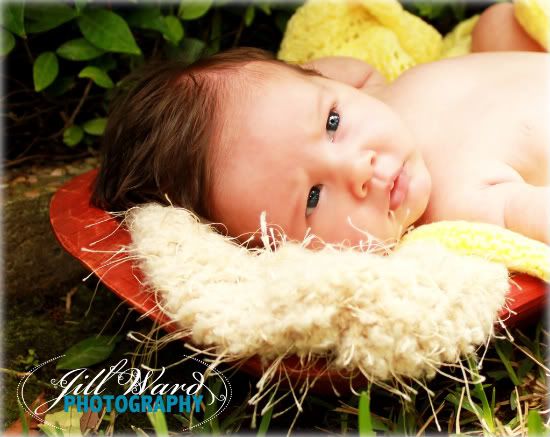 So...there you have it!
Three of my new fave Etsy sellers!
Show them some love.
Visit their shops.
Tell them Jill sent you!